About Us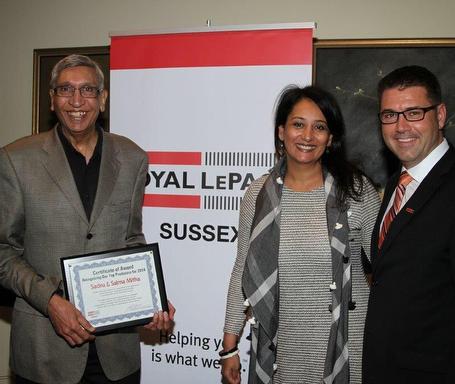 Father and daughter team combines the best of two generations offering a level of excellence that only experience brings
Together Sadru and Salma offer clients, developers, and investors an unprecedented strength in real estate marketing and dedicated customer service. Our dynamic team has the professional expertise, experience and enthusiasm to help you make the most of your next sale or purchase of real estate.
Our professional approach to meet our client's demands and consistently satisfy home buyers and sellers better than the competition is the ultimate winning strategy in our business.
It's all driven by the quality of the home ownership experience which we help customers achieve with our one-of-a-kind products and services.
These innovations together with the high quality professionals who deliver them, allow our Marketing Team to provide "Total Satisfaction and Then Some".
Sadru Mitha, R.I., F.R.I. has the academic background and long term Real Estate sales performance record on the North Shore that is unmatched within the industry.
Sadru is a graduate of U.B.C. in Urban Land Economics, Fellow of the Real Estate Institute of Canada with specialization in Real Estate Appraisal and a Member of the Real Estate Institute of British Columbia.
He is a well known realtor with 44 years of Real Estate sales experience on the North Shore. In addition to being a consistent top producer at Royal LePage Sussex he has been awarded membership of the Medallion Presidents Club and 19 year Diamond Master membership of the M.L.S. Medallion Club of the Real Estate Board of Greater Vancouver. Heis founding director and past Chairman of Sussex Realty. 

Sadru also served as Chairman of the North Vancouver Chamber of Commerce, with a membership of more than 700 North Shore businesses. For his dedicated services to the Chamber, Sadru has been awarded a Life Time Membership to the North Vancouver Chamber of Commerce. Sadru was also awarded the distinguished 2012 Professional Excellence Award by the Real Estate Board of Greater Vancouver.

Sadru's wife Gulshan, a prominent Notary Public on the North Shore,  is actively involved in the local community including serving as a Director for North Shore Family Services and volunteers with Lion's Gate Hospital and the BiPolar Foundation. Sadru enjoys tennis, golf, skiing, traveling, gardening and bridge.
Sadru teamed up with his daughter Salma Mitha in 1997 as a licensed Realtor. Born in Nairobi, Kenya, Salma grew up on the North Shore and joined Sadru after a successful career in public relations and communications. Salma and her husband Moe Somani, who runs his company SOHO Business Group, enjoying raising two children, Jasmine and Jordan. Salma is also involved in the Parent Council at Mulgrave School, North Shore Family Services, Aga Khan Foundation Canada, and Canuck Place Children's Hospice.

Sadru and daughter Salma are recognized leaders not only in the Real Estate industry but also in the community of the North Shore. The Mitha name is well-known to be involved and committed to serving the community.